We offer the choice of backward-inclined, airfoil, backward-curved or forward curved wheel, all types of motors, high temperature, spark resistant and more.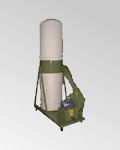 Bag type portable dust collectors ranging up to 50 gallons dust holding capacity. Mounted on casters for easy moving around.


Also supplier of air incinerators, Canada Blower air blowing machinery - air knives / air canons, high pressure blower systems, high temperature blower & fan ventilation systems, blower air movers, industrial air pollution control ventilators, Canada Blower industrial ventilating equipment and systems..