Oleg Blower Corporation is one of the North America's leaders in providing air movement equipments - fans, blowers, ventilators. We have established long-standing relationships with many of the industry leading companies and supplies:


Centrifugal Roof and Wall Exhausters
Low Profile Roof Exhausters
Ceiling Wall and Cabinet Fans
Centrifugal Square Inline Fans
Tubular Centrifugal Fans
Vent Sets
Centrifugal Filtered Supply Fans
Propeller Wall Fans
Propeller Roof Fans
Hooded Propeller Roof Fans
Propeller Smoke Control Fans
Lab Exhaust Systems
Economizer Fans
Tube Axial Fans
Air Curtains
Gravity Ventilators
Flat Blade Centrifugal Blowers
Airfoil Centrifugal Blowers
Tubular Centrifugal Blowers
Plug and Plenum Fans
Industrial Material Handling Blowers
Vane Axial Fans
Air Circulators
Energy Recovery

Our goal is to deliver highest quality fan / blower products and superb service support to our customers. This insures the highest level of our industrial process and OEM customer's satisfaction. We are committed in providing excellent services to our customers, from quotation to the equipment installation and its service.
Today our production is growing, as more and more satisfied customers come back to us. Our commitment to quality service has ensured that we now receive orders from a wide spectrum of industries.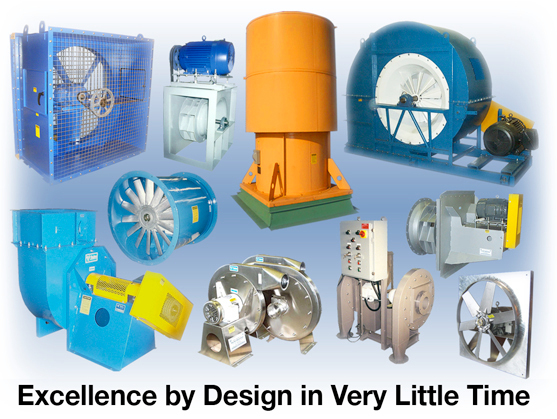 Founded 1995
Sales of industrial fans & blowers, high pressure blowers, centrifugal fans, axial ventilators, roow and wall exhaust and supply fans, material handling blowers & radial fans, scroll cage fan ventilators, high temperature fans and blowers, New York Blower, Twin City Fan / Aerovent, Chicago Blower fans, Peerless Fans, Dayton Ventilators, Sheldons fans & blowers, Canarm Leader ventilators, IAP fans, Industrial Air.